What we're up to this month
Cooking up plenty of new flavours
As you may know already, either through our social media accounts or our previous blog, we have just released two new flavours in our Bubblegum Kings line. Both Watermelon and Pomegranate were well received by our fans, with some even telling us that it made them fall in love with Bubblegum flavours again, so we felt like now is the right time time to release Watermelon Ice and Pomegranate Ice.
Many people always request Ice variants of whatever flavour we release, so we try to fulfil those requests as much as we can. If you haven't checked out the new flavours already, click here to have a look at it. We are aware that many of our fans want to try Bubblegum Kings without any nicotine, so make sure you keep checking out our blogs to be the first to know when that is available! For the fans that are in love with Bubblegum Kings, just know that we're not stopping here.
Furthermore, Bubblegum Kings is not the only line thats getting a new icy variant. We can't tell you exactly which line this applies to, but we can tell you that the flavour is most definitely a fan favourite. Matter of fact, it is so icy we even called it frozen this time, and we also made it blue just because of how frozen it is! This will be announced before the end of the month, so if you're ready to try a new e-liquid, make sure you follow us on Instagram and Facebook as it will be announced there first.
Our range is rapidly expanding being perfected so that we can cater for all vapers. We want to give everyone a flavour they like when they shop on our website, so you will be seeing some new additions in the next few months.
Who are we working with this month?
On the 30th and 31st of October VapeHuset Sweden is hosting a launch party of their new shop and we are proud to announce that we will be sponsoring this event! To our Swedish fans, make sure to keep these dates free in your calendar as this is an event you don't want to miss. There's going to be loads of giveaways, free testing on all juices, food and drinks will be served and of course no event is complete without good music. On their website they will also be running a buy one get one free offer on all Dr. Vapes E-Juice, including Dr. Vapes Shortfills & Dr. Vapes 10ml Nic Salts during that period, perfect time to stock up on your favourite juices right?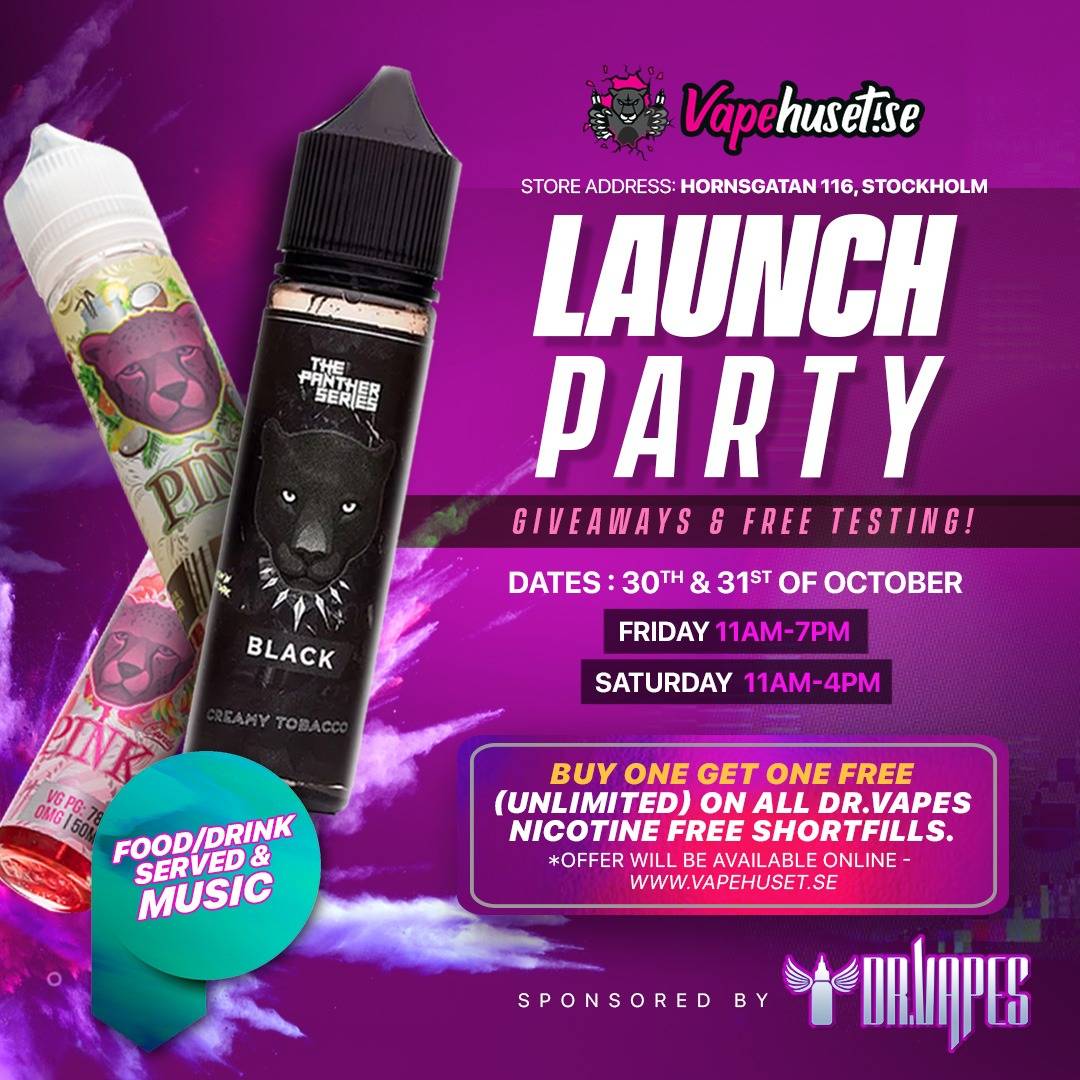 Keep up to date with The Doctors. Anything from announcements, promotions or sales.